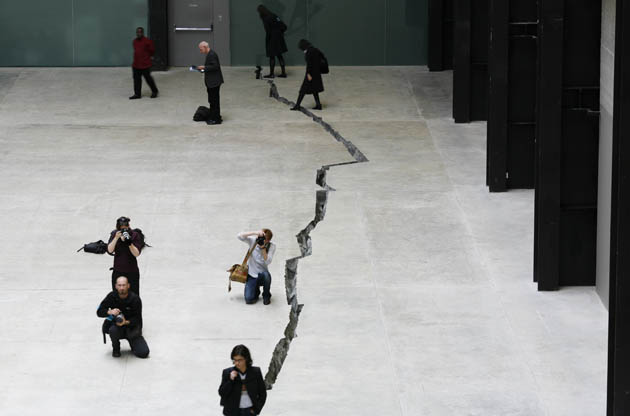 The Times reports: "A crack in the floor which forms Tate Modern's latest installation has claimed its first casualties." Eek!
How scared should we be?
Three visitors lost their footing and fell into the gap made by Doris Salcedo's art work.

They were among more than 12,000 people who viewed the installation, which runs the full 167 metres (548 feet) of the Turbine Hall.

The Tate said the trio did not sustain serious injuries.
So what is this crack o'danger all about? Is it a bigger threat to public safety than the mountains of warehouse-reject boxes? Or the, um, weather thing? Or those awesome slides?
The Guardian explains:
The work by Colombian sculptor Doris Salcedo, entitled Shibboleth, runs the full 167 metres (548 feet) of the cavernous hall. It begins as a hairline crack in the concrete floor of the building, then widens and deepens as it snakes across the room.

[…]

"What is important is the meaning of the piece. The making of it is not important," [the artist] said. Asked how deep the fissure goes, she replied: "It's bottomless. It's as deep as humanity."

[…]

"It represents borders, the experience of immigrants, the experience of segregation, the experience of racial hatred," she said. "The space which illegal immigrants occupy is a negative space. And so this piece is a negative space."
Right. Negative indeed if it's wrongfooting the poor public! So, what are the Tate people going to do to save unwary Londoners and tourists from the bottomless depths of humanity's evils? (How many times have we asked that question this month??)
"Tate staff are monitoring the space carefully to ensure the safety of our visitors.

"Tate has a lot of experience handling complex installations and visitor safety. We have thought carefully about visitor safety, working closely with Southwark Council and there are measures in place. There are no plans to barrier off the work at this stage."

Tate staff are on hand with leaflets warning about the dangers of getting too close to the piece.

Gallery attendants have also been instructed to give verbal advice to visitors.
Well that's okay then.
Let us give thanks to Unilever for sponsoring such larks in the Turbine Hall over the years. Perhaps the crack could also symbolise how bereft of art our lives would be if sponsorship didn't exist? I'm thinking of you, The Times BFI 51st London Film Festival. Rolls off the tongue, non?